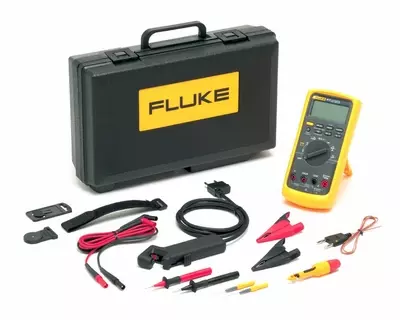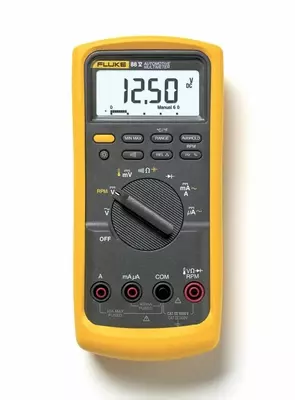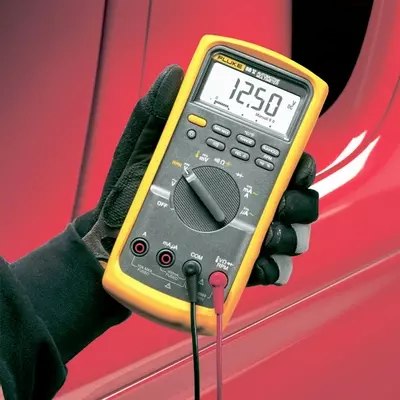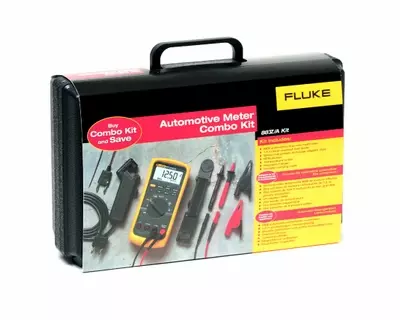 Fluke 88V/A Automotive Digital Multimeter Kit
Fluke-88V-A
Fluke
Fluke-88V/A Automotive Digital Multimeter Kit

With a lifetime warranty and a bunch of accessories this automotive digital multimer kit has everything you need to conduct voltage, current, rpm, diode tests and pulse width measurements.

Designed for a harsh workshop environment it is rugged and able to withstand the daily knocks and scuffs with its protective cover.

Its outstanding accuracy and troubleshooting features ensures that you are able to solve many of the issues discovered on ICE, Hybrid and EV vehicles.

The Fluke 88V operates very similar to the old classic Fluke 88, but has been updated with more problem solving power, safety, convenience and impact protection.

All inputs are protected to CAT III 1000V and CAT IV 600V and they can withstand impulses of up to 8,000V to protect from arc blasts resulting from surges and spikes.

Features

Built-in thermometer conveniently allows you to take temperature readings without having to carry a separate instrument
Magnetic hanger (included with kit) for easy set-up and viewing while freeing your hands for other tasks
Large digit display with bright, two-level backlight
6000 counts, 3¾ digits
Measure up to 1000 V AC and DC
Measure up to 10, 20 A for up to 30 seconds
Frequency to 200 kHz and % duty cycle
Resistance, continuity
RPM measurements with inductive pickup
Millisecond pulse width measurements for fuel injectors
10,000 µF capacitance range for components and motor caps
Min/max-average recording with min/max alert to capture variations automatically
Peak capture to record transients as fast as 250 µs
Relative mode to remove test lead interference from low ohms measurements
Auto and manual ranging for maximum flexibility
Touch Hold to capture stable readings avoiding noisy signals
Large display digits and two-level bright white backlight for increased visibility
Analog bargraph for fast changing or unstable signals
Input Alert provides audible warning against wrong use of input jacks
Improved selectable sleep mode for long battery life
Access door for fast battery changes without opening up the case
"Classic" design with new removable holster with built in test lead and probe storage
10 mΩ input impedance wont load circuits
0.1% DC accuracy
Measures:

Resistance, continuity and diode test
Millisecond pulse width measurements for fuel injectors
Frequency to 200 kHz and % duty cycle
Measure up to 1000 V AC and DC
Measure current up to 10, 20 A for up to 30 seconds
4½ digits for precise measurements
RPM measurements with optional inductive pickup
Temperature measurements with optional temperature probe

Lifetime warranty
Size: 201mm x 98mm x 52mm
Weight: 624g

Specifications

AC/DC Voltage: 0.01mV - 1000V
AC/DC Current: 0.001mA - 10A, 20A for 30 secs
DC Volts accuracy - 0.1%
DC Current Accuracy - 0.4%
Resistance: up to 50MΩ
Capacitance: up to 9,999µF
Frequency: up to 200kHz
Temperature measurement - -200 to 1090°C
Safety rating – CAT-III 1000V, CAT-IV 600V

Included in the Kit

Fluke TL224 Sure Grip Test Leads - Insulated soft silicone leads that enable a variety of configurations using additional probes, clips, hooks, grabbers etc.

Fluke TP220 Sure Grip Test Probes - Featuring 12mm stainless steel tips that provide reliable contact with a flexible finger barrier to improve grip.

Fluke AC285 Sure Grip Alligator Clips - Designed for use even with the slippery of hands. Rubber over moulded surfaces give a smooth comfortable reliable grip.

Fluke TPAK ToolPak Magnetic Meter Hanger - Used to hang your meter in a number of ways for hands free operation.

Fluke 80BK-A Integrated DMM Temperature Probe - For use with the Fluke 88V temperature measurement function.

Fluke RPM80 Inductive Pick-Up/ External Trigger - measure the RPM of an engine through secondary ignition impulses.

Fluke C800 Hard Case

Delivery charges:

UK Fast Tracked (1-3 days) - £9.00.

UK Standard (2-5 days) - Orders <£50.00 = £2.50

EU Mail Standard (7-21 days) - Orders <£50.00 = £13.90 Orders >£50.00 = £16.50

EU Tracked Fast (2-5 Days) - £30.00

USA Mail Standard (7-28 Days) - Orders <£50.00 = £18.90 Orders >£50.00 = £25.00

USA Tracked Fast (2-5 days) - £35.00

Worldwide Mail Standard (5-14 Days) - Orders <£100 = £18.90, Orders >£100 = £35.00

Worldwide Tracked Fast (2-5 days) - £35.00

EXW - Arrange collection using your own courier account.

Note that standard services outside the UK may not include tracking.

International orders are shipped DAP (Incoterms 2020). The receiver is responsible for any customs or tax charges at their border.

Returns

For details on our B2C and B2B returns policies please read our Terms and Conditions.
Other Customers Bought: