IC Test Clips - Buyers Guide
Buyers Guide on Integrated Circuit (IC) Test Clips
Integrated Circuits (IC) Test Clips are useful across may electrical based applications. Common applications range from; production testing, prototyping, field service and quality control inspections. The invaluable Test Clip creates an easy access to IC Leads for probes and mitigates the risk of shorting and damaging fragile PC board chips.
IC Test Clips are available in various formats and contact types. Discover answers to common queries and questions relating to IC Test Clips.
2 - What are the types of IC Test Clips?
3 - What are the IC Test Clip Contact Types?
1 - What is an IC Test Clip?
Integrated-Circuit (IC) tests clips ensure a secure and reliable connection to chip legs and leads to enable handsfree testing. The IC Test Clip mounts and secures over the top of the IC making contact with its legs. Connection to leads or probes to the clip enables the individual to perform programming or tests with ease. IC Tests Clips ensure the reliability and performance of PC board components and limit the risk of damaging the assemblies. Surface Mount Integrated Circuit Test Clips are available in different component package types and pin sizes to accommodate a wide range of requirements.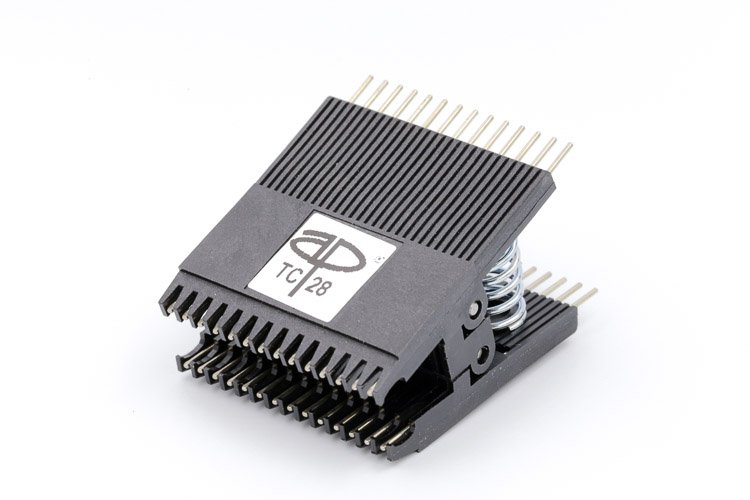 2 - What are the Types of IC Test Clips?
IC Test Clips are available in various packages and pin configurations for different electrical applications. Below is a list of industry popular IC Test Clips
Dual In-Line (DIL) or Dual In-Line Package (DIP)
IC Test Clips are manufactured from a robust plastic and have two rows of interconnnects along two opposite sides of the package. The DIP is a common through-hole IC package with up to 84 pins and the most common lead pitch is 2.54mm (1.78 and 1.27mm are less common).
Small Outline Integrated Circuit (SOIC) or Small Outline Package (SOP)
The small outline IC package is the most common package type for low pin count ICs. It is lead frame-based plastic package with leads on two sides of the body and pin counts ranging from 8 to 84. The original lead pitch is 1.27mm, but shrink small outline packages (SSOP) with smaller pitches of 0.8, 0.635, and 0.5mm are available as well. Fully encapsulated SOP with a total package height of less than 1mm are often termed think small outline packages (TSOP).
Plastic Leadless Chip Carrier (PLCC)
A PLCC has a rectangular plastic housing. It is a reduced cost evolution of the ceramic leadless chip carrier (CLCC). The PLCC utilises a 'J-Lead' with pin spacing pitch of 1.27mm. The pin strip forming the lead is wrapped around and under the edge of the package, resembling the J in cross-section. Lead counts range from 20 to 84. The PLCC is preferred over DIP style chip carriers when lead counts exceed 40 pins due to the PLCC's more efficient use of board surface area.
3 - What are the IC Test Clip Contact Types?
IC Test Clips feature various contact types for specific applications and connection requirements. Each contact type has been designed for a specific device to ensure; high normal force, positive electrical connection and long-term performance.
| | |
| --- | --- |
| Knife edge | Sharpened 'knife' like contacts designed to breakthrough oxides and conformal coatings |
| Duckbill | Flattened contacts for maximum interface surface area on the IC pins. |
| SOIC | Occupies an area about 30-50% less than an equivalent DIP |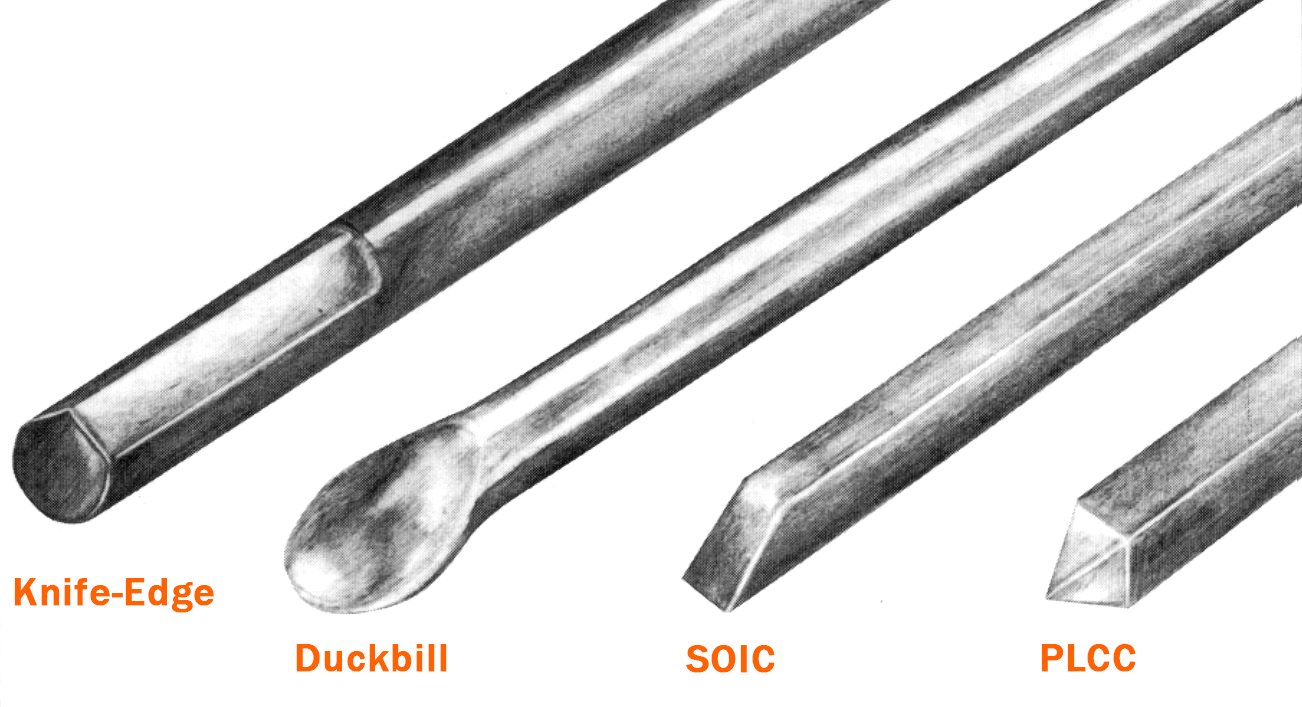 4. Summary
Integrated Circuits (IC) Test Clips are important pieces of electrical test equipment to enable; production testing, prototyping, field service and quality control inspections. IC Test Clip Package types, counts (number of pins) and contact styles differ greatly. Matching suitable IC Test Clips for your application can be difficult. If you have any doubt please contact us for IC Test Clip product advice.
---